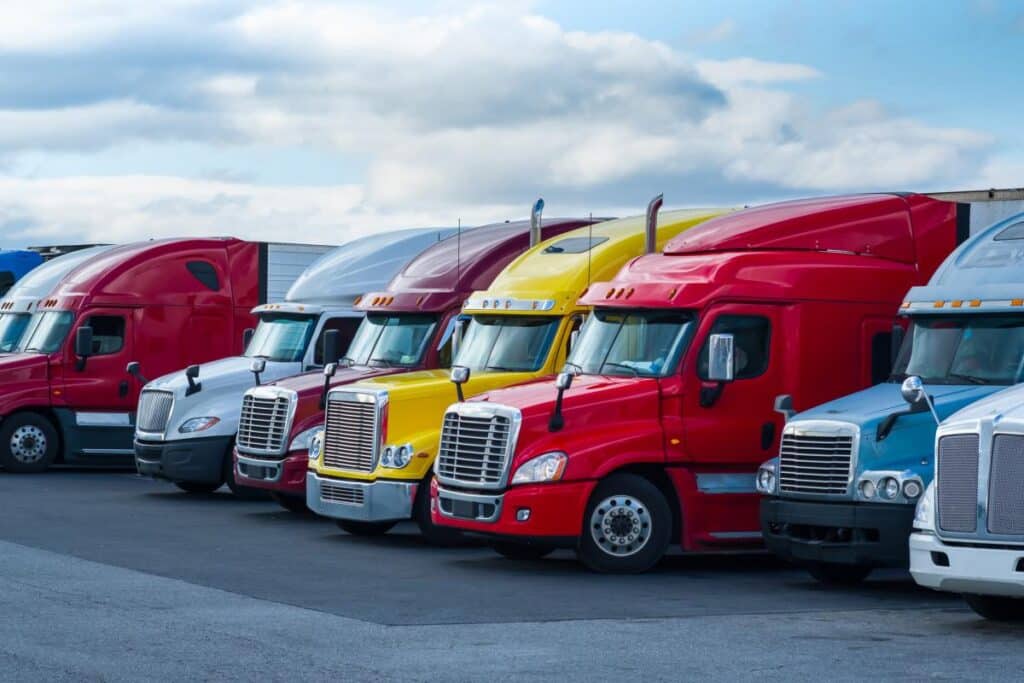 For truckers, trucking insurance is necessary to protect themselves on the road. It does not just cover truckers though. Cargo transported by truckers often consist of other peoples belongings that they don't want damaged or lost while being transported.
Trucking has been a necessity in the transportation of goods from one place to another for many years now. It's popularity is due mostly to its convenience, but it's also been gaining speed with lower prices and better technology.
What does semi truck commercial insurance cover?
Trucks can haul a great amount of cargo. They often transport thousands of pounds at once, and bring it across the country in a matter of days.
This means that semi truck coverage also covers the truckers cargo as well as truckers themselves. It is important to find the cheapest trucking insurance for your company. Sometimes finding that trucking insurance near me is a call to your local agent.
Commercial trucking insurance is a type of coverage that truck drivers may be required to carry in order to meet contractual or legal obligations.
This policy can also be referred to as motor truck cargo insurance, trucking liability insurance, or trucking cargo insurance. If you don't have any employees it may be called owner operator trucking insurance. We have good luck with Progressive Trucking insurance. Progressive commercial trucking insurance can be very competitive for the right company.
Commercial Trucking Coverage
Commercial insurance for trucking companies generally protects trucking companies, truck drivers, trucking fleets, and products being transported in an assortment of different circumstances.
This includes truckers transporting their own goods or passengers.
These policies are most often used to ensure that cargo owners are protected. This protects them from financial loss in the event that something happens to the items they are sending through a trucking service. This is important to ask for on a trucking insurance quote.
This is why it is so important for people who send out goods by truck to make sure that their insurances cover them while they are on route with other companies. If damage occurs, the insured party will need to file a claim with their commercial auto insurance carrier before involving another insurer or attempting to settle the claim independently.
Having quick access to documentation of commercial trucking insurance is a number one priority for truckers.
With nationwide trucking insurance, truck owners can be protected from various losses.
Truckers must keep in mind that each policy is different and has its own limit on what it will cover.
Truckers have been known to buy policies from other companies so they don't have to switch carriers every time their contract comes up with the company they're driving for at the moment.
This way truckers can still retain customers and continue making money without spending extra time and money switching trucking companies every year or two.
Commercial truck insurance policies can vary greatly depending on whom you get them through and what company you work for. For example, if your trucking company purchases the commercial truck insurance policy.
For some truckers, their truck is their business, so they want to ensure that they have complete coverage.
They need semi truck-insurance that covers everything from accidents with other vehicles on the road to weather damage and theft. Make sure to look over insurance quotes for trucking companies thoroughly.
Some truckers only drive trucks part time (or seasonally), so they don't want a lot of expensive coverage included in their semi truck insurance plan. Most companies, however, offer policies for both types of truckers.
If you own your own truck or trailer and are driving for personal reasons rather than working full-time, then you may be able to get away with basic liability protection.
However, it's wise to talk over these options with a semi truck insurance specialist. They'll help you see what trucking policies are available and which type would best protect your truck.
Truckers will often find themselves working for other trucking companies as owner operators.
How much does truck insurance cost?
If this is the case, they may be able to get commercial truck insurance from their employer's carrier. Or they may be able to get separate cargo insurance from an independent agent.
In addition, truckers who only have personal truck insurance need to know that it does not cover any damage you do while operating as a trucker for someone else.
Again, if you're an owner-operator trucker, make sure you discuss what your options are with your trucking liability insurance company before making any decisions about trucking policies and coverage limits.
The trucking insurance policy is a contract between truckers and trucking companies.
Although truckers are required to keep their truck insurers informed about what trucks they're operating, trucking companies have to be upfront with truckers about the limits of liability that they can incur from accidents.
No matter how much you trust your trucker's driving abilities, it's possible for them to get into an accident with a moving vehicle or stationary object while they're on the clock.
Even if a trucker accidentally drops something out of his truck and hits another car going down the road, he could be held liable for all damages because those damages were caused by his negligence.
Commercial Auto Insurance
Truckers should take this risk seriously and weigh whether commercial truck insurance is worth the effort.
If you don't need insurance, it isn't wise to pay for trucking insurance premiums.
Instead, truckers should make sure they purchase policies that will cover them for any potential incidents involving moving objects or pedestrians on highways or streets.
If truckers are driving under contract with trucking companies, then their trucking company will have to take care of trucking claims for damages that result from accidents during work related trips.
The best thing about commercial truck insurance policies is that they protect both the driver and the carrier in case of an accident with another vehicle on public roads.
However, if a trucker causes an accident while he's off duty, his policy won't pay anything for trucking claims resulting from the accident.
His truck insurance company will provide truckers with truck insurance or trucking companies with commercial truck insurance to protect truckers and trucking companies from truck accidents that they might incur while operating on public roads.
It doesn't matter whether they're trucking for business or pleasure when truckers are being held liable for truck crashes that occur off the clock.
Commercial truck insurance is very important for truckers, trucking companies and trucking carriers.
If truckers want to make extra money working as independent truckers (or owner operators), trucking insurance companies will provide them with truck insurance policies that protect their interests in case of any accidents they might incur while driving on public roads when not working for a trucking company. While each policy is different in terms of coverage and premiums, most semi truck insurance plans offer liability coverage and collision and comprehensive coverage.
Truckers should ask their commercial auto insurance carrier about the plan's coverage options before signing anything or agreeing to pay for trucking insurance.
The last thing anyone wants when they're out driving on the road is getting into an accident with another vehicle. Unfortunately, it can happen. Truckers especially should make sure their trucking carriers give them semi truck insurance.
It's important to ask truckers about the types of truck accidents that their truck insurance policies will cover. This is just in case they get injured or damage someone or someone else's property while trucking for work or pleasure on public roads if they're an owner operator trucker.
Check out our other blogs: